Workshop at GAFA, School of Innovation Design,
28th of May to 1st of June 2018,
from 9:00 AM onwards,
at Guangzhou Old Campus.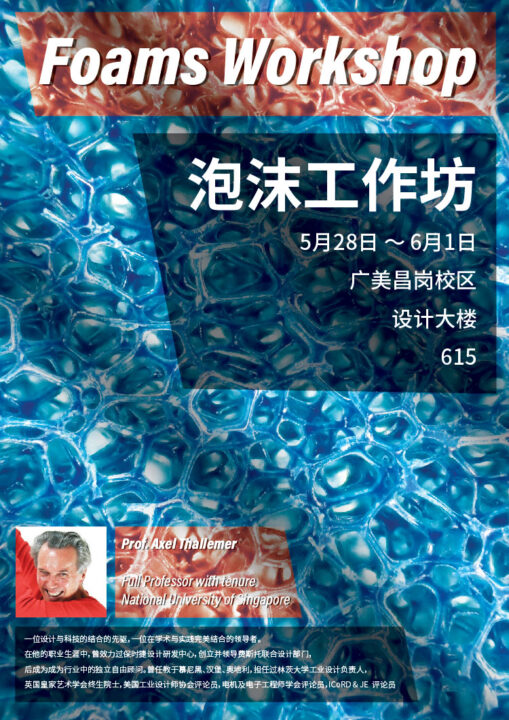 Title:
'Foams'
Subtitle:
"Sponges versus Foams | Nature and Human Artefact"
Natural sponges have been used as tools by humans and even animals since long times. Design has evolved as purpose-driven form giving from hand axe to computer mouse and beyond by bettering tools for progress of mankind. Industrial design – opposite to styling – can be based on research through natural sciences. Looking at paragons in nature, here marine soft sponges, can lead by heuristic in analogy to new microstructures and by the help of additive-generative fabrication to hard or soft "metamaterials". Innovation today most likely starts from specifically designing "new" [instead of existing] materials made to fit to their prospective application while taking their respective manufacturing technologies, ecological and economical context into account. This can yield lightweight structures for conserving resource and energy in aerospace and mobility applications or scaffolds for biomedical purposes. Representational heuristics exemplify the ideation of new lattice structures from natural sponges from the Caribbean, Mediterranean, Philippines to artificial soft and hard foams. Semi-finished products are juxtaposed to functional components with differentiated internal structures. The latter are showing a microstructural architecture through interdependence of structure and processing as well as resulting properties and performance. A visual exploration in purposefully designed materials versus solid matter.